The Office of National Statistics has released data showing that the rates of business births and deaths have moved back to near pre-recession levels. The study also reveals the 5-year survival rate for businesses.

Business survival rates
In a statistical bulletin, Business Demography 2011, the ONS found that the chances that a business launched in 2006 was still 'live' in 2011 was 45%, although there were significant variations in this percentage – between regions, and industries.
The highest business survival rate is in Northern Ireland (50.5%), and lowest in London (41.8%). Businesses in sectors such as health and education have much higher survival rates (60% and 52.8% respectively) than many others – such as hotels & catering (where almost two thirds of businesses do not last five years).
Business birth and death rates
As the ONS graph below shows, the number of new businesses has been rising since 2010, and the number of deaths has decreased since the credit crunch was at its peak, in 2009.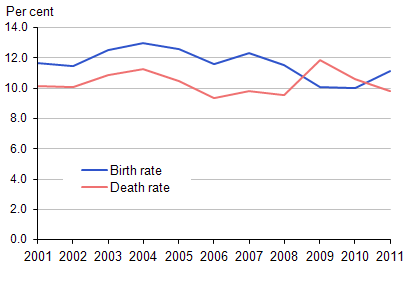 In 2011, there were 261,000 business births, compared to 235,000 in the previous years. The number of business deaths over the same period fell from 250,000 to 230,000.
Most business births by industry
According to the ONS report, the industry with the highest birth rate is 'information and communications', followed by 'professional' (scientific and technical) businesses and business administration & support services.
A fair percentage of the professional start-ups are likely to include companies formed by contractors. There are significantly more births in these three business sectors than deaths.
Industries where the death rate exceeds the birth rate include construction, wholesale, and finance & insurance.
Regional differences
With the regional breakdown, as with the business survival rates by industry, the main statistic of interest is the difference between business births and deaths. The highest birth rate is in London (14.6%), followed by the North East and North West (11.2% and 11.1% respectively).
However, the chances that a business will survive in the capital is far greater than in the other two regions – with a death rate of 10.4% (4.2% lower than the birth rate). The difference is far smaller in all other regions.
Although Northern Ireland has the most impressive business survival rate over a five year period, during 2011, the business death rate (8.6%) was significantly higher than the birth rate (6.5%).
The only other region of the UK which had more businesses fold than start-up was Wales, but even then, the difference was a mere 0.1%.
Further Information
You can download the full ONS statistical release here (PDF).