From early 2015, you will be able to download information from Companies House free of charge, making the UK register company data more transparent, and saving searchers millions in fees.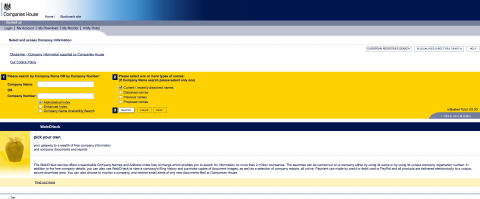 According to Companies House, businesses and individuals spent almost £9m downloading information from the company register last year – either directly from the Government WebCHeck service, or via third party company information service providers.
There are around 130 million single pieces of information stored on the register, relating to 3.3 million companies.
You can download all submissions made by companies to the registrar of companies – including information relating to a company's officers, changes to a registered address, and Annual Return and Annual Accounts data.
Currently you can download any individual document for £1 each via WebCheck, and considerably more, in some cases, on third party sites.
You can also download free basic information about companies, via the Free Company Data Product, which has been used 20,000 to date.
The opening up of access to business information forms just one part of the Government's 'Open Data Agenda'. Under the stewardship of the Public Data Group, a number of other public sector data repositories (Land Registry, Met Office and Ordnance Survey) will also undergo reforms to make information more easy to access.
Commenting on the announcement, Vince Cable, the Business Secretary, said: "By making its data freely available and free of charge, Companies House is making the UK a more transparent, efficient and effective place to do business."
You will be able to download company information for free from the second quarter of 2015 onwards. In the meantime, you can search the register (subject to the current £1 per document charge) here (WebCHeck).