If you make sales pitches to potential customers, you may want to read these useful tips when using visual aids during meetings / presentations, kindly provided by Nicola Cook, author of 'The Secrets of Success in Selling'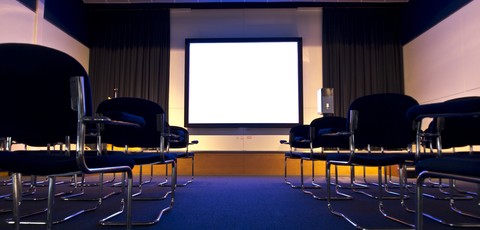 Do:
Hold handouts until the end of the meeting.
Find ways to convert your message into pictorial and imagery formats.
Use colours, shapes and movement to build on your message as you speak.
Reveal information as you talk through your presentation as opposed to present all the visual information at once. Retain control of a document or brochure by turning the pages as you speak, as opposed to handing the document to the buyer.
Keep it simple. They are not buying your ability to prepare a highly complicated visually dynamic presentation they want to know about your product & service and how this relates to them.
Get there early if you need to set-up the meeting room. It's not professional to be climbing under the table trying to find an electrical socket if the room is already full of buyers. Make friends with the Gatekeeper and they will help you.
Make sure all your equipment, samples and laptop (including the screen!) is clean before you use it to deliver a presentation. The remnants of last night's dinner smeared all over the keyboard of your computer will cause the buyer to form a negative judgement of you, which will simply create an unnecessary barrier to the sale.
Practise, practise and practise some more until you are sure your delivery supported with visual aids is super slick, otherwise you'd be better off without them rather than deliver an overall poor presentation.
Take the time and invest in learning how to deliver professional presentations including presentation skills, if this is something you do on a regular basis.
Don't:
Use your sales presentation as speaker notes.
Ever rely solely on technology to deliver your message. You need to be able to generate the same impact, even if the power is out. (which has happened to me!)
Overcomplicate your slides and kill off your buyer, something that is known in the industry as 'Death by PowerPoint'. A rule of thumb, use no more than 10 words per slide (if you are using a visual package such as PowerPoint)
Blame the technology, you choose to use it, so if you blame a poor presentation on the technology, it only reflects poorly on you.
Stand in front of an image if it is being projected. I know this may seem obvious, but you will be amazed how many people, once they get going, are unaware that their body image is casting a shadow over the presentation!
Be afraid to ditch the visual aids part way through a presentation if they stop adding value and the client simply wants to engage in a conversation.
Further Information
This is an extract from The Secrets of Success in Selling by Nicola Cook, published by Pearson. Nicola is MD of Company Shortcuts, – a consultancy dedicated to excellence in sales and leadership. Join her at the next Company Shortcuts Business Accelerator sales growth conference. Find out more here.