We interviewed Alistair Callender, the founder of GATE8, which recently launched an innovative business luggage product which meets the hand baggage restrictions of all airlines. We asked him how he developed the brand, and how early criticism from a serial entrepreneur inspired him to transform the business.

How are you marketing the Gate8 range? Do you have any tips for startups on how best to approach retailers?
Like all start-ups, our marketing budget is very limited, therefore we are acutely aware that every paid for advertisement needs to return a profit, or the risk can be very painful. We are focussed and clear on whom our target audience is, research where and how we are likely to reach the largest numbers and very clear on what message we want our marketing campaigns to deliver.
With our travel products being designed to save people money and time enabling the consumer to avoid check-in, whilst arriving un-creased and unstressed at their next business meeting, we are looking at advertising in relevant in-flight magazines to hit our target market.
We're aiming at airlines that provide short-haul routes to business travellers, such as FlyBe and Monarch Airlines. So far, experimenting across the UK's low cost carrier space has been successful. We are using the same strategy for our retail channel to market, targeting airport retailers, for example. We are now selling our products at Glasgow and Birmingham airports.
We are also using the pop-up model successfully, attending and/or sponsoring relevant conferences with our roller-banner and bags to demonstrate how the product works, and handing our innovative discount boarding cards.
Supporting our in-house efforts, we are using very successfully a PR agency, specifically for start-ups (StartupPR), Ella has secured our company national press coverage and huge brand exposure across a range of projects for the product launch.
Intellectual Property is something that many business owners ignore at their peril. How did you find the patenting process for your Gate8 range?
Securing the Patent Design Registration was key in validating and securing (as best a company can) the innovation within the bag design. The actual process of doing so was surprisingly simple, all completed on-line, and at a low cost (compared to quotes I had from third parties to complete the process on my behalf).
When you first presented your initial product, serial entrepreneur Lara Morgan gave you 19 reasons why it was doomed to fail. How did you turn things around?
When I first met Lara Morgan (who is now my business partner), she did deliver a very harsh lesson in business. She told me that both my branding and website were 'rubbish', and that my product manufacturing was 'not particularly good'.
In fact, Lara provided me with a list of 19 reasons why she would NOT invest.
In hindsight, this meeting was a great learning curve for me. I was still in very early stages of setting up the business, and therefore fortunate enough to be very agile and flexible, and able to make huge changes across the business without impacting any existing brand integrity, partnerships or affiliates.
Being absolutely determined to develop a brand and continue with my enterprise, I thanked Lara for her time and set about a transformational change in the business.
I spent several weeks with a brand consultant going back to the core of what GATE8 was. This helped me select pantone colours, type face and artwork all to develop the foundations of the brand and message. I also revisited China, changed suppliers and employed local experts for onsite quality control.
What were the key bits of advice you received from Lara?
To focus on building a brand and learning how to sell!
Have you ever considered creating a new bag to cater for the 'travelling baby' market? (i.e. bedding/clothes/bottles/toys, etc. in different compartments?) Or is the key to success keeping focused on the business market?
In the early days of a start-up business, it is critical the brand remains focussed on it's core market. We save business travellers money and time with intelligently designed, easy to organise bags that travel with them avoiding check-in. Therefore at this stage digressing from this, into the leisure market, could potentially dilute and confuse the message. Your idea does sound like a novel one though!
What's the biggest lesson you've learned from your experience with Gate8?
Be focussed, structure and manage your day. It is all too easy to waste away a day on admin and "fun" stuff when there are sales calls to make. I am still learning this skill!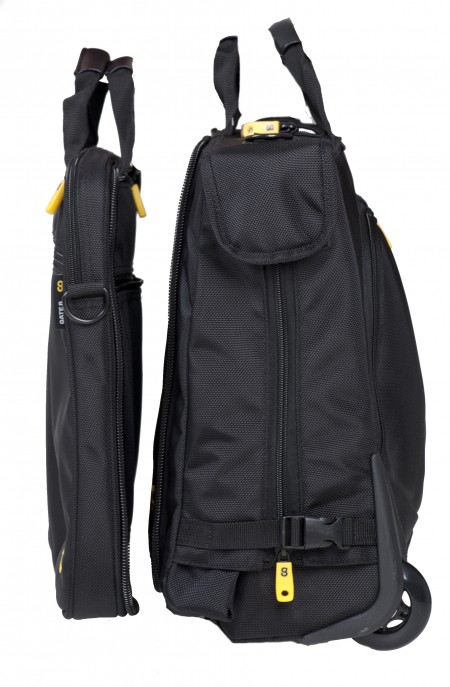 What's next for the business?
Growth through international sales. We now have stock in the USA and starting to grow our digital sales via a USA .com website. We are also working on a pilot project to publish a German translation GATE8 micro-site supported though in-flight advertising. We hope to become a global brand!
Further Information
You can find out more about Alistair, and his company at gate8-luggage.co.uk.