Cat in a Flat founders Kathrin Burckhardt and Julie Barnes feature in our latest success stories, looking at entrepreneurs making a success out of a niche business idea. They discuss having complementary skills, marketing your business effectively, and attracting customers. Cat in a Flat has become an international business allowing customers to find cat sitters for their pets.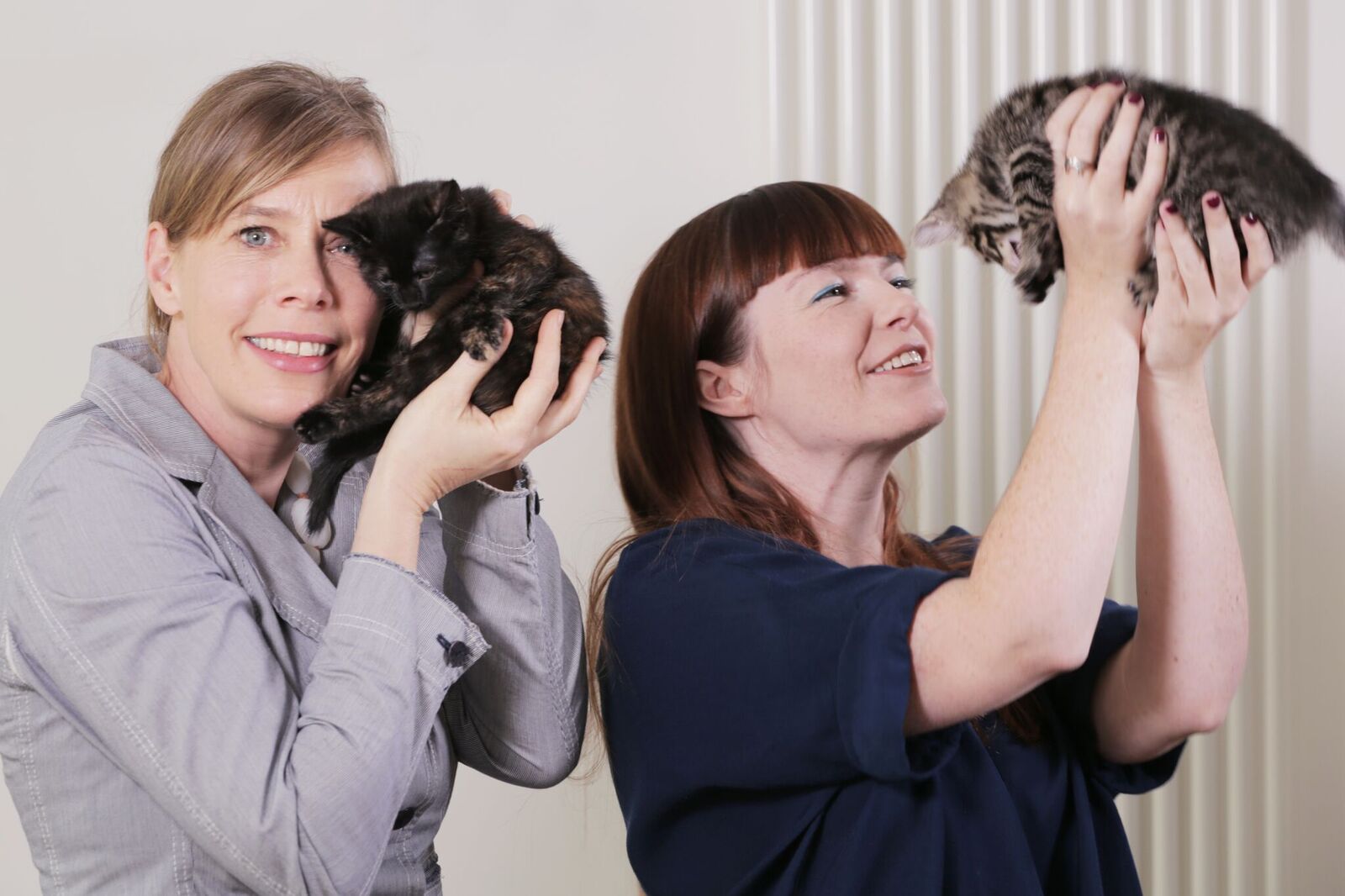 Can you briefly explain how you came up with making your idea into reality?
As life-long cat lovers with a total of 8 cats since childhood, we always struggled to find trusted cat sitters to look after our cats whilst on holiday and quickly ran out of favours from neighbours and friends. Taking inspiration from Airbnb and the booming sharing economy, we knew there must be an easier way to find a cat sitter and Cat in a Flat was born.
Cat in a Flat is more than just a cat sitting service – it's a cat sitting community. Sadly a lot of landlords don't allow pets these days, or there's always 'one' partner who's allergic, so we enable cat lovers who can't have a cat of their own to get their kitty fix by helping out cat owners in their neighbourhood. And they get paid to do it, what's not to love?
What gave you the confidence that your business idea would work
In short; knowledge, need and will-power.
Knowledge
Before we started Cat in a flat, we worked as a creative team in the online industry thinking up and building online platforms and campaigns for global companies such as Coca-Cola, Orange and Unilever.
As we never shied away from technology and new digital challenges, we had a massive pool of knowledge gathered between us which spread from online product development, to design and interfacing, and most importantly the ability to find and work with the best people in our industry.
To see if people understood our idea and to test their need for it, we launched a landing page inviting people to sign-up as cat sitters.
Need
While still working full-time, we built a minimum viable product (MVP) to see if people would understand our service concept and start using it. We started distributing flyers in places like Columbia road market and local newsagents. Sign-ups and bookings picked up quickly with just word of mouth. This gave us the proof that we were on the right path.
Over the following year, we approached city-by-city across the UK, signing up sitters and owners through digital marketing and print posters.
Will-power
From then on it was "only" will-power and hard work.
How did you go about making such a niche business idea work?
With nearly £2 billion pounds spent in cat care a year in the UK alone, cat sitting is not as niche as it may first appear.
There are more than 5 million urban households with cats in the UK who go away for more than 20 days across the year, which creates a collective of 80 million days of potential cat sitting every year.
Cat in a Flat particularly suits urban dwellers with a lifestyle that expects quick, convenient-based, digital service solutions. Cat owners find our local, vetted and insured cat sitters the perfect solution and addition to their holiday planning. All at the press of a button. Cat sitters get to spend time with furry clients and not have to worry about pet bills or long-term care, and best of all they get paid to do it!  All our cat sitters go through a personal onboarding process that automatically insures them. We provide them with their own personal webpage, as well as service agreement contracts and a secure payment and booking system.
We believe our community gives us the best insight for a successful online platform as they know what they want and tell us. So, we, as founders, are very hands-on and dedicate time to learn from our customers and their queries.
We are particularly proud of our smart scaling over the last few years, growing from a Shoreditch-based start-up to a London dominating, the UK and – since last year – Ireland, Netherlands, Germany and Austria wide service.
We assess the moment of expansion carefully, making sure we are strong and an investment into another area will not harm existing areas. As a city-based service, we make use of geo-targeting in online ads such as Facebook and Adwords and enter new cities one at a time.
How do your roles and your partners roles vary?
Although we work across two different countries, 1100 km apart, we have a very disciplined daily routine. Every morning at 8.30 am UK-time, we Skype and go through daily and weekly chores. While we discuss and decide any points between us, our roles of responsibilities are different and complement each other. Julie is responsible for brand, visual design and customer service. Kathrin coordinates the technical updates, runs the online marketing campaigns and leads the business side.
As our skills vary slightly, it brings different viewpoints into the business.
What are some of the biggest challenges you faced setting up and running your business?
Initially, our biggest challenge was trust. Selling the concept of a cat-loving community that comes into your house and takes care of your fur baby while you are away. As we grew and collected such lovely profiles and reviews, people learned to understand our community and service.
The trust level increased with the incorporation of a bespoke cat-sitter insurance which was really hard work to negotiate from all sides.
Now we are across five markets we notice new challenges such as online payment. Each country has different preferences and trust levels in different payment modes, which we have to adjust accordingly and offer in our system.
What skills do you think are necessary to run a business?
That depends on the type of business. In our case, it is a love for cats and new technology, good communication skills as we work cloud-based, the energy and enthusiasm to learn something new every day and the superpower to work a 70-hour week on a massively reduced salary – at least for now!
How did you attract customers to your business?
We use a mixture of online advertisement, posters, flyers and magazine ads to find new customers. Most new cat sitter sign-ups and bookings (60%) come through word-of-mouth and direct referrals of people that have used us before.
Although print campaigns appear relatively costly, we believe they carry a longevity and a strong word of mouth factor to help our brand awareness.
What kind of role did online marketing play in securing clients?
Even if only every fifth new sign-up finds us through our online advertisement, our biggest spend are online ads.
We are currently running hundreds of ads on Facebook and Google AdWords across our 5 markets in two languages every day. We target cat owners and cat sitters with tailored messages. They are all geo-targeted and fall under specific audience groups criteria.
Over time, we see online ads to be decreased as this cohort will be saturated and we will have to look for new reach media.
What are your long-term goals regarding your business?
We get a lot of requests from France, Italy and America in particular, all countries with a high penetration of households with cats.
If we decide to expand, we initially do not see the market as a country, but as towns, since we are an urban service. The towns have to fulfil certain criteria such as strong middle-class that can afford an extra expense on top of their regular holidays and has no in-house live-in servant culture. Also, insurance and legislation are key criteria for the choice of our next markets.
For the near future, however, we are planning to deepen our existing markets with long-term goals of market-related partnerships and affiliates. We want to become a household brand, a name that comes into your mind as soon as you, as a cat owner, book your next holiday.
What advice would you give someone looking into starting a niche business?
Identify your competitors, look at what they do well, and where they could improve, and use this as your inspiration to be even better and stand-out from the crowd.
Always check and double-check that your financial model is viable. You can have a great idea and lots of energy, but if the numbers don't stack up you'll never have a profitable business.
How can I scale the business? What will it take to scale? How easy will that be? Without considering scalability right from the start you may find that you are trapped at a certain size and can't get beyond that.
More on success stories and standing out from the crowd.