Once you've submitted your company formation details to Companies House, and your application has been accepted, you will be sent a certificate of incorporation, which states your company name and other details.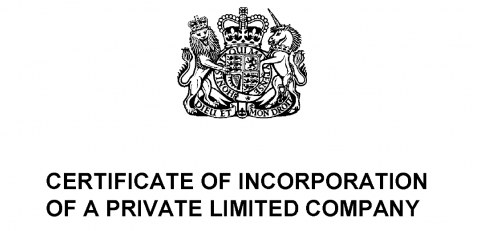 According to s.15 of the Companies Act 2006, once a formation request has been successful, the respective registrar (England & Wales, Wales, Scotland or Northern Ireland) must provide you with a certificate, which contains the following information:
Certificate of Incorporation – What does it contain?

Your Company Name.
Your Company Registered Number.
The date or incorporation.
Whether the company is limited or unlimited (in almost all cases, this will be the former).
Whether the company is limited by shares or guarantee.
If the company is a private or public company.
Where the company registered office is situated (England & Wales, Wales, Scotland, or N.Ireland).
According to the Act, the Certificate of Incorporation is "conclusive evidence that the requirements of this Act as to registration have been complied with and that the company is duly registered under this Act."
The Certificate shows that a company exists, but does not show who owns it.
Paper or Electronic Certificate?
When you form a limited company, you may or may not receive a paper Certificate of Incorporation, depending on the type of formation service you choose.
If you order an electronic version, you may prefer to order a paper copy too, which may also be a requirement if you want to open a business bank account (although, a printed copy from your own PC may suffice in some cases).
What if you lose your certificate?
With the vast majority of company formations taking place electronically these days (via the Companies House Web Incorporation Service, or via a third party), you will most likely have received a PDF certificate when you registered your company. In this case, you just need to keep the electronic certificate safe, and print it when necessary.
If you incorporated using paper forms, Companies House will re-issue a lost certificate in certain circumstances, but not if the date of incorporation was over 3 months ago.