If your business provides digital solutions to any number of problems, you run the risk of frustrating your customers if you don't communicate with them in the right way. Here, Prof. Steven Van Belleghem shares his tips to help you towards this goal.

Why an anti-climax may follow a big step forward
Looking back at 2014, there were huge steps forward for digital as experts began to harness the true potential of the technology.
Perhaps more importantly, it was a year when normal consumers began to experience for themselves the opportunities and benefits that mobile technology, drones and the 'Internet of Things' could make to their everyday life.
It was even the year when businesses started to realise that Artificial Intelligence could be so much more than just science fiction.
Unfortunately, as is the case with so many things in life, what follows a big step forward can easily become a disappointment or anti-climax. Once you have experienced success and had a glimpse at what is possible, anything less becomes unacceptable, which is why I believe there is a good chance that 2015 will be remembered as the year of digital frustration.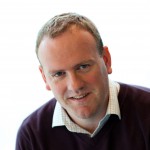 To put it into context, I am a big fan of Disney, but ever since I experienced their new MyMagic+ system at Disneyworld USA, the customer experience at Disneyland Paris feels like a step back into the Middle Ages.
However, this doesn't need to be the case. Disappointment doesn't have to be inevitable, and I have outlined five key points that can ensure you avoid making 2015 a year of digital frustration for your customers.
1. Make technology intuitive
Consumers increasingly expect intuitive technology. Users' manuals written in 20 different languages are becoming a thing of the past as gadgets like the iPhone have got us all used to the power of intuitive technology. People today want self-guiding applications, so if your company has a choice between investing resources into developing a new feature or working on improving the user experience, the decision should really be a no-brainer – an intuitive design and a slick user interface is invaluable.
2. Make technology fast
Simplicity and intuitive design are great, but we are all increasingly impatient consumers and if technology is slow then it will quickly frustrate customers. We are learning that consumers prefer to have several quick niche applications that are continually being modified and improved rather than a single one that tries to do everything less effectively. Consumers even expect digital solutions to thinks ahead now, and faster-than-real-time solutions are becoming the norm as digital solutions make our lives easier.
3. Listen to feedback AND act on it
Digital technology is all about a constant flow of information which has made it easier than ever to listen to consumers. Social listening has been adopted by most businesses now, but actually using this information to improve products will be what sets smart businesses apart.
A challenge I would like more businesses to keep in mind this year is to take new ideas about your digital application, and rather than have the usual meeting where you guess what consumers will like, just execute the idea using limited resources. Live A/B tests allow you to see how people respond to new developments and you then have real-time feedback to make much better decisions about future applications and solutions that customers will actually want.
4. Make technology FUN
Aside from being intuitive and fast, the technologies that really set themselves apart and engage customers also have an element of fun. In the context of the technologies we use, "fun" can mean a whole range of things – making it beautiful to look at, making it funny with a little bit of personality, or making it surprising in some way. Google is a perfect example of how a company can lead the market embracing an element of fun: as a search engine it is easy to use, it is very quick and how they have a team of experts continually optimising the performance every day, but they also have an eye for fun so change their logo every day to create a little amusement or topical surprise for users. Don't overlook the fun aspect in the digital world, it can really add to the relationship with the user.
5. Don't be afraid to be transparent
While we all strive for perfection, even the biggest and slickest organisations in the world have problems. By communicating transparently about the company's plans, progress and even mistakes, customers will buy into the human element. On the other hand, putting on a front and claiming something is perfect only results in huge burst of digital frustration when reality bursts that bubble. Your approach to customer experience is now a crucial part of your marketing plans so adopting a policy of being open and transparent about your digital plans is crucial.
Watch a video summary of these 5 tips
Further Information
Prof. Steven Van Belleghem is author of The Conversation Company and The Conversation Manager, and his new book, When Digital Becomes Human, will be published by Kogan Page in April 2015.
Follow him on twitter – @StevenVBe, subscribe to his videos at YouTube or visit www.stevenvanbelleghem.com