If you've ever quit one job without having another one to go to, you'll have experienced The Fear – that feeling of dread that the money might run out before you find employment.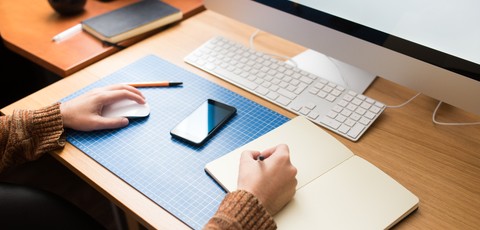 For freelancers, though, The Fear is a tangible part of everyday life. You face the challenge of completing your existing workload, while marketing yourself wherever possible to drum up the next month's orders.
How do you live with that for the long term? Well, it takes emotional strength and a forward-thinking attitude – and if you have the personality traits listed below, you're off to a good start.
Thrive on fear
Some freelancers actually like the ever-changing nature of their work – in essence, it's like having a new job every month (and, in some cases, even more often than that).
The sense of urgency can help to keep you motivated, and constantly marketing yourself to people is a great way to keep your confidence levels high; even though you'll sometimes get rejected, you'll still spend a lot of your time telling potential customers how great you are.
You'll need to keep the desperation out of your voice if you're going to be successful, and learn how to sell yourself while still sounding modest – whatever other skills you have, you need to be a proficient marketer to keep the work coming in.
Look to the future
However good or bad things get, change lies ahead. It's one of the few things freelance workers can be absolutely certain about.
During the good times, put some money aside – more than just enough to cover your tax bill. In the lean times, fall back on your savings and ramp up your marketing efforts.
It's generally wise to live within your means and, however much work you've got on, keep one eye out for further opportunities so your income stays steady in the months to come.
Get organised
Have a clear concept of the service you offer – what you can do, what you can't do, and who your ideal customers are – and market yourself accordingly.
You'll also need to keep on top of the admin side of being a freelancer, so learn about invoicing, business expenses and tax returns, and make sure you put enough to one side to cover your tax bill.
If you're not a naturally well-organised person, come up with a system of some kind. Good old-fashioned index cards can work just fine, or if you're more technically minded, make yourself a simple spreadsheet of deadlines, work done, and earnings for each month.
Either way, keep your notes up to date and keep a close eye on client payments to make sure no invoices get missed – if you're not organised in any other part of your freelance career, money is still one area where you can't afford to make mistakes.
Make yourself heard
The internet has made the world into a global village and, if your service doesn't require you to be there in person, it's an unprecedented way to get business from all over the world.
Build your social network presence – on LinkedIn for more formal sectors, or on Twitter if you prefer a chattier approach – and offer yourself to anyone who's looking for a contractor with your specific skillset.
It's easier than ever for an individual to become a multinational brand, and social networks are the new word of mouth, so get out there and start socialising.