In this interview, we talk to Ed Molyneux, the CEO and co-founder of FreeAgent, the UK's market-leading online accounting system, which has been designed specifically for small business owners and freelancers.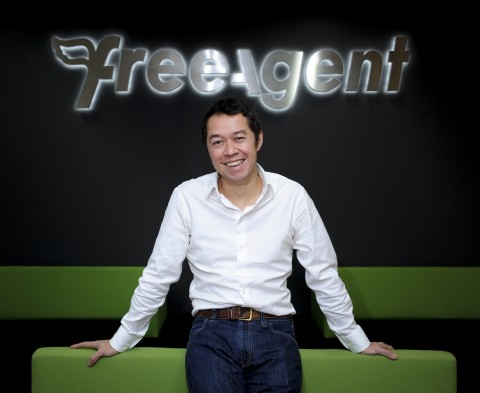 What personal experiences inspired the management team to create FreeAgent?
I left the RAF in 2002, where I had served as a pilot, and moved into IT consultancy work. Whilst freelancing I met fellow freelancers Olly Headey and Roan Lavery and we all agreed that, although we enjoyed working for ourselves, the experience of sorting out our accounts was incredibly stressful.
We were frustrated with the fact that there was no accounting system available that had been designed specifically with freelancers in mind – and we hated the prospect of wrestling with a complicated spreadsheet in addition to paying a lot of money to an accountant to do our books.
That was the spark we needed to write the first prototype of FreeAgent and the three of us propelled ourselves into six months of rapid development, prototyping the service and shaping the business model in our spare time. Our vision was to "democratise accounting" for small businesses and freelancers and that mantra has been paramount in everything we've done since we launched the system back in 2007.
What main business lessons have you learned from your experiences over the past 7 years?
Staying focussed is very important. It requires having the confidence to listen to your team and your customers and stay true to your vision, and trying to ignore what competitors are doing to some extent.
Secondly, all the corny cliches are true: it's all about the people. Witnessing the passion and inventiveness of our team is the single most exciting thing about FreeAgent, and those only come about when everyone's aligned towards a single vision and have everything they need to contribute accordingly.
How easy was it to scale the business to keep up with demand – especially in the first few years?
We certainly had to solve some technical problems as customer numbers grew. But as three technical co-founders, it was much harder to find new customers than work out how to provide them with the service!
Technology is obviously crucial to your business. How do you interact with existing clients to improve usability / add new functions?
We try to listen very closely to our customers when it comes to their experiences with FreeAgent and what new features they'd like to see introduced into the system. Of course, we can't guarantee to implement everyone's requests, but this feedback has been essential in helping us to shape FreeAgent into the best possible accounting system for micro-businesses and the self-employed.
We already have a clear idea of the long-term roadmap we'll be implementing over the next couple of years. An existing example of one of these kinds of enhancements would be the Self Assessment Tax Filing we launched earlier this year for sole traders and limited company directors – whereby FreeAgent can fill in up to 90% of the forms directly from the user's existing accounting data and you can also file directly from the application, which is now one of our big USPs.
For these big steps forward we initially work mostly internally to ensure we have scope to re-invent the process from the ground up, rather than tweaking an existing process that our customers might have experience of. But once we're ready, we'll share early versions of the new functionality to a group of 'beta' customers so we can refine and polish prior to launch.
For smaller changes – Evolution rather than Revolution – we do spend a lot of time with customers (both business owners and accountants) to work out how they already use FreeAgent and how we can make it better.
Do some accountants view FreeAgent as a rival rather than complementary to their services? How have you overcome this potential conflict?
Most accountants see FreeAgent as an intuitive way to work more effectively with their clients, rather than something that's taking business away from them. They recognise that a lot of smaller businesses want to manage and stay in control of day-to-day bookkeeping tasks themselves, but that they also need expert help and guidance when it comes to wider tax issues and how to manage their finances better.
Using FreeAgent means that accountants can collaborate in real time with their clients to check their basic numbers quickly, and then provide them with more in-depth insights that could really help their business. It's easy for clients to use and is a sustainable way of working effectively with them throughout the whole year, rather than just when their tax returns are due. And because accountants are freed up from doing the nuts and bolts bookkeeping tasks, that also means they have more time to look for new clients and to grow and strengthen their practices.
I'm sure there's still a bit of resistance to online accounting products among a few small pockets of the accounting profession. But it's certainly not an attitude that our own accountant partners have.
How important has social media been in spreading the word about FreeAgent?
It's been very important to the genesis of our business. During the early years of FreeAgent we relied heavily on word of mouth and recommendations to grow the business, so social media channels like Twitter were vital in spreading the word and getting endorsements and referrals.
And social media remains just as important to us now. We're always amazed at how many people use words like "love" when they're describing using FreeAgent as their accounting system of choice on channels like Twitter and Facebook. It also means we regularly get new customers referred to us through social media word of mouth – and that's due to these followers who are extremely vocal in their promotion of FreeAgent.
However, we also try to use social media to help people rather than just as a way to let people know about FreeAgent. We answer support questions, take feature requests and have conversations with our customers through social media, as well as providing useful information about tax, record-keeping and running a business. We also run weekly Q&As on Facebook and Twitter, as well as a monthly video Hangout, where people can ask questions about tax, expenses or invoicing to our Chief Accountant. These are open to anyone to participate – not just our own customers – and they are becoming a valuable channel in helping us spread the word about who we are and how we can help people.
What's next for FreeAgent?
Relative to the ambition we have for the product and the company, we're only just getting started!
There are still so many aspects of managing a business on your own, not just dealing with the finances, that are far more daunting than they should be. We won't be finished until we've solved as many of those as software is capable of solving!
To find out more, visit the FreeAgent site.