The way small businesses and sole traders operate is changing. Online apps are now essential tools for businesses across the board, but with developments coming thick and fast it is easy to get left behind.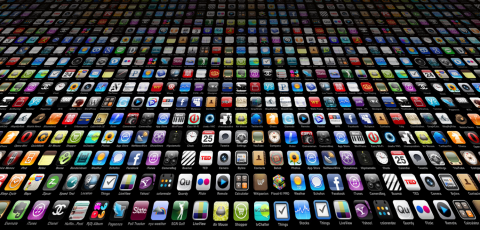 Here, Jonny Lawrence, Digital Marketing Manager at Logic4Training highlights the go-to apps to revolutionise the way you do business in 2016….
In the past, many small businesses have struggled to appear as professional as larger organisations: without expensive technology, it has been hard to keep on top of things, with paperwork mounting up, piles of invoices to send out and receipts floating about.  Lack of organisation can quickly take over, so you feel you have less time left to actually run your business.  If this sounds familiar, you'll be pleased to hear that times are changing.
In this day and age, anyone with a Smart Phone in their pocket can access online tools and apps for free which can improve the administration side of your business and assist in how 'professional' you appear.  We all hate paperwork, so why not get rid of it using the latest invoicing and time tracking applications.
Keep track
One of the most popular apps for increasing productivity is Evernote, a digital notebook which allows users to store checklists, links, notes, even receipts which can then be accessed from any computer or Smart Phone. If you have a brilliant idea while away from the office, jot it down using your app and retrieve it when you return.  You can add tags to notes making searching at a later date easy.  Use the free version, or upgrade to a more "pro" package.
Being aware of how long different tasks actually take can help with accurate quoting, as well as help you to focus on the task in hand.  Toggl is a time tracking app that can be used on desktop and mobile.  A great alternative to time sheets, Toggl also provides reports so you can keep track of time spent on each project.  The free version has so many useful features, again with options to upgrade to a paid version if necessary.
If you need to access documents on the go, Dropbox is a secure file sharing and cloud-storage service which stores and saves your documents.  Access is flexible, providing options for desktop, online and mobile.  Packages range from 2GB of storage for free, to unlimited storage with their "business" package.
Professional payments
Accounting admin is often the biggest headache, but one that's very important if you want to get paid! The SmartTrade app is a free mobile payment app that also takes care of quotes, statements, receipts and much more. You can accept credit and debit cards wherever you are and there's no need for any expensive card reader, no contract, no merchant account. SmartTrade turns your mobile device (Apple or Android, phone or tablet) into a mobile card reader. All you need is the app to scan a card and take a payment. In addition to this, SmartTrade also helps organise bookings and jobs, sends customised quotes, invoices and receipts and manages your accounts more efficiently.
The Wave is another accounting app made specifically for small businesses and the self-employed – entrepreneurs, freelancers, tradespeople – and can be used completely free of charge. It has functions for creating, sending and tracking invoices as well as automatically keeping transactions up to date and providing professional and clear reports as to how your business is doing.  In addition to this, its online credit card processing function can help you get paid faster.
By using accurate time tracking, digitised invoices and allowing for card payments, sole traders and small businesses can now easily put in place the infrastructure more usually associated with larger organisations. Whether you're a freelance graphic designer, a plumber or electrician, there's no excuse not to upgrade the way you run your business.