The coffee shop business industry in the UK is expanding, and it is expected to be worth around £15 billion by 2020. This will see the rise of about 10,000 outlets in the upcoming three years. With room for you to thrive, opening a coffee shop now could be ideal for you. Coffee shops are well in demand with sleep-deprived Brits inclined to purchase a cup of coffee or two throughout the day. There is, however, the stellar competition that coffee shops owners will face from large chains such as Costa and Starbucks as well as the many independent coffee shops who are offering a unique experience to stand out.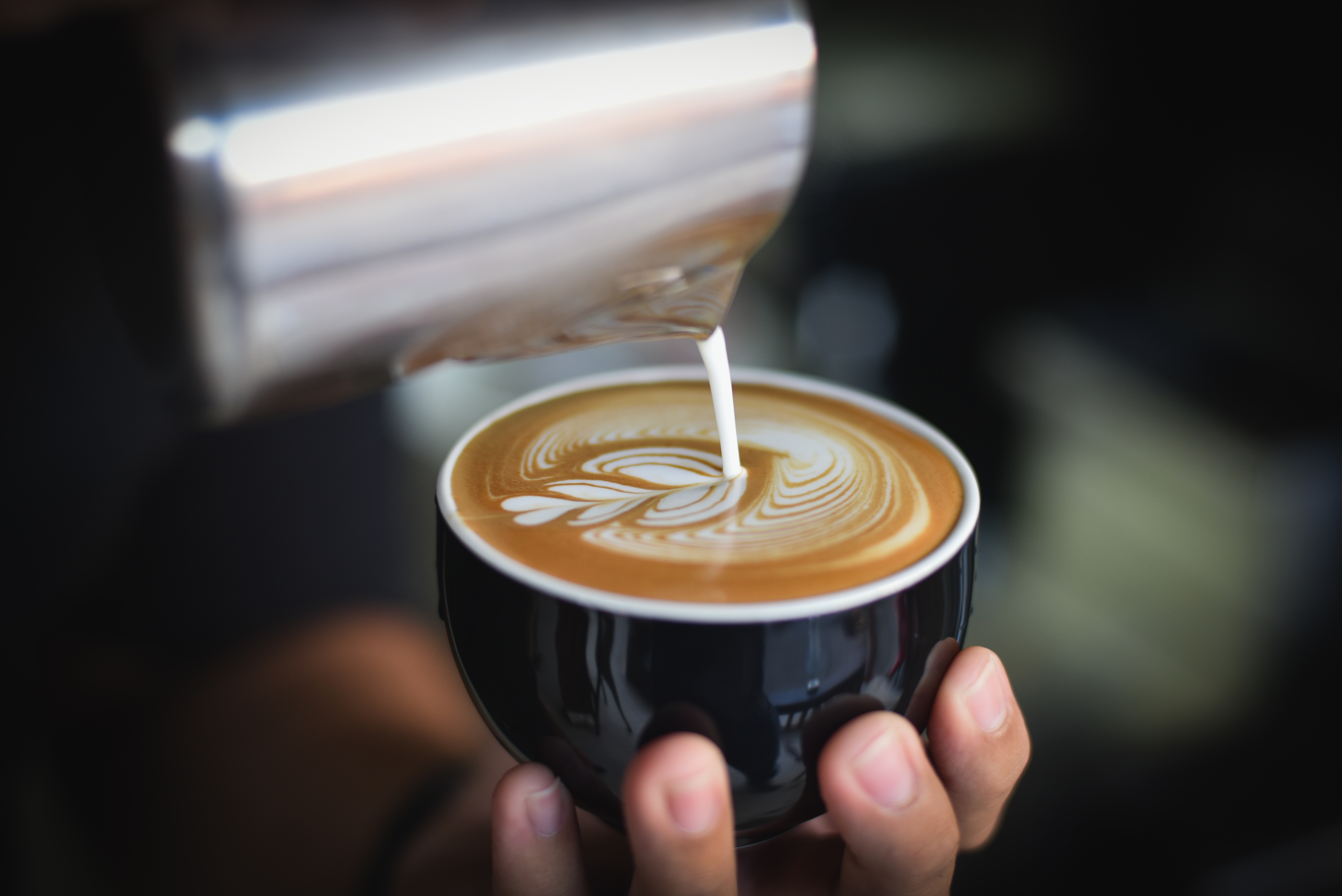 Coffee shops are more than just a source of coffee, they are social hubs where people meet to socialise, shoppers recuperate and professionals hold meetings. As there is much more to a coffee shop than just the coffee, the focus should be on the overall experience and the customer care you provide. Providing a personalised customer experience can help you build your base of loyal customers who will give you repeat business, so it's really worth investing time in perfecting your customer experience.
The skills, training and qualifications needed
Many coffee shop business owners tend to have previous experience in catering or a similar industry. This can help you prepare for dealing with food and running a coffee shop. Alternatively, if you want a basic level of training just to prepare yourself, you can take food courses at your local college. Experience and qualifications in the relevant industry will help to prepare you better and give you a sense of security, however, it not essential in succeeding.
To be able to create a friendly, personalised service to your customer you need to have people skills. Being a people person is essential to creating a lasting impression, which should be your main goal especially at the beginning. Coffee shops rely heavily on returning customers so providing great customer service and care is vital. Therefore, get to know your customers, to determine what kind of service they want. Additionally, encourage and train your staff to mirror your enthusiasm in providing excellent customer service.
You should also have an entrepreneurial flair and should be ready to take on the challenge of starting a business. Starting and shaping your business into a profitable success is a gruelling process, which requires you to persevere and keep yourself motivated. You don't need to start off having all the essential business skills, but you should aim to cover some basics such as leadership and the ability to motivate your staff and team.
How much money will you need?
The money you will need for your coffee shop will vary greatly as it will often depend on your location. The actual premises is likely to be the most costly part of your business start-up costs — you can expect to start a small coffee shop for approximately £20,000, however it could range up to around £50,000 for bigger coffee shops in more expensive areas. These are the estimated minimums, however, if your budget allows then you can certainly spend more. You should keep in mind though that there are always ways to cut start-up costs.
Make sure that you carry out thorough research to find relevant prices and costs. You may also want to consider leasing some of your equipment as it can be a great way to save money. The costs can add up and here are some of the costs you need to consider and think about when you are calculating your start-up costs.
Espresso equipment can cost between £2,500 – £10,000
A dishwasher can cost between £1,000 – £2,500
Crockery can cost between £250 – £1,000
Fridges can cost between £800 – £3,000
Furniture can cost between £3,000 – £15,000 depending on the size of your premises
Accountancy can cost between £500 – £15,000 (you may want to consider a combination of accountancy software and an accountant to save costs)
A solicitors service can cost between £500 to £2,000
Initial stock can cost between £1,000 – £5,000
There are multiple avenues of funding that you can explore. You can start off by trying to get funding from those around you, for example, you could ask your family and friends to invest in your business idea.
Other small business funding options include bank loans, peer to peer lending platforms such as crowdfunding and funding circle, and government-backed loans. They will all vary in terms of how much money you can get and the repayment process. As there all of these different options available to you – if you don't succeed the first time, don't be disheartened, try again.
Whether it's your family members or the bank you are asking for funding, you will also need to make sure that you have a solid business plan to entice potential investors.
Location of your business
The location of your business is essential to the success of it, and it can also be the most costly part of your startup costs. Therefore, make sure that you spend enough time finding the ideal location. Finding a location that will reflect positively on your business and bring in the sales, as well as being a reasonable price, won't happen overnight. Make sure to persevere and carry on the search until you find the right place for your business.
You should also create a floor plan for your coffee shop — this will give you a starting point in looking for a location. A floor plan will allow you to map out the different points in your shop and see how much space you need, for example, you can map out the till area, a place for the people to queue, and the rest of the seating area.
You will need to decide what kind of coffee shop you want to run, whether you want a small establishment or a much larger coffee shop. A small coffee shop will seat 15 to 45 people, a medium size coffee shop will seat 45 to 100 people and a larger shop will hold more than a 100 people. You will need to ensure that there is a demand for what you are offering. For example, you probably don't want to open the biggest coffee shop on a high street with several other competitors. Starting off small is a good idea, as it allows you to build your customer base.

Pros of running a coffee shop
There are several pros and cons to consider when you're getting into any business, however highlighting both will really help you see if the benefits outweigh the negatives. Here are the pros of running your own coffee shop:
Running your own business can help you fulfil your dream and turn your passion for coffee into your livelihood
The coffee industry is currently worth £9 billion, there will always be a demand for it
There is always a room for a niche business, so be different in order to succeed
Running a business challenges you as a person and helps you grow and change through the acquisition of new skills
You have peak points during the day where you can really take advantage of. For example, in the morning you will have customers grabbing a coffee on their way to work. This can give you a routine and schedule plan
You can integrate into the community
Cons of running a coffee shop
Here are some of the negatives that you may want to consider before deciding on running a coffee shop business:
There is plenty of competition, and some of them are really big names such as Costa and Starbucks
Can be very expensive to set up and difficult to fund
You will have to hire employees which means extra costs going out of the business
Running a business means long hours and potentially a lack of flexibility if you are unable to delegate to begin with
What you need to start a coffee shop
There are many things that you will need to get started in running your coffee shop. Here are the main things you will need:
A premises that is an ideal location for your business to thrive.
You will need to relevant licenses as well as relevant knowledge of food safety.
Equipment, including coffee makers and tills.
Furniture
Initial stock
Staff
Relevant skills
A 'people person' personality
Attracting customers to your coffee shop
Coffee shops rely on loyal customers and repeat customers. Therefore, once you get a customer through the door you will need to provide exceptional service to gain their loyalty. Having a good product combined with personalised service will help you in attracting the kind of customers.
Social media is always worth investing in as each social media platform serves a different purpose. You can use Facebook to encourage customers to leave you reviews and feedback. Use Instagram to show off your coffee art or any aesthetically pleasing pictures. You can use Twitter to promote daily promotions or update your followers on any news. Creating a brand that correlates and reflects on your business will only make it memorable in the eyes of your business. As a small business, give your social media profiles personality and character to stand out from the behemoth coffee chains such as Café Nero and Starbucks.
Running a coffee shop can be a rewarding venture, allowing you to build relationships with your customers whilst making profits. Having a niche/USP to back you up will help you attract customers, and allow them to choose you over any competitors. Make sure to carry out the right market research and have a well-written business plan in order to secure funding.
More on small business ideas and starting a small business.