Are your investments in your people paying off?
As a Small Business, it's crucial to retain your talent. The amount of money and time you've spent on recruitment, training and years of on the job experience. All that expertise walking out the door is so difficult for Small Businesses to recoup, especially in such uncertain times and with the high cost of living. Everyone is working hard and the impact of burnout and overwhelm can cost the company not just in terms of staff, but the cost of support for the employees.
You and your people are at the heart of the business. Investment in training on skills and competencies can provide a short improvement, but helping them improve their wellbeing will positively impact the bottom line much more effectively.
You and your staff can try as much as you want to keep your personal lives away from work, but we're all human and the world around us impacts us all. Whether it's anxiety, stress or just overwhelm. All this effects them, it impacts the people around them and it creates a workplace environment that can be demotivating, ineffective and toxic.
Staff support shouldn't cost you a fortune and it will reap rewards in loyalty, improved customer service, a happier and more productive workforce – because it shows you care. This is one investment which will have positive long terms impacts on every individual and teams.


Who am I?
My name is Shwezin Win, I've worked for over 20 years in small and major businesses within retail, marketing and employee experience. I've held senior positions, managed large teams and worked for many years within transformational projects. I'm also a mum and a step mum, so I understand the challenges individuals face when they're juggling multiple roles.
I am a fully qualified experienced Personal Performance Coach, which means, I provide a safe, confidential, non-judgmental space, for you and your staff to improve your mental and emotional strength. My passion is to help individuals to really win at life, to create more joy in the workplace and to help small businesses retain their talent.
Furthermore, coaching isn't for those who are "broken" or "troubled", although coaching can help with self belief, confidence and resilience – as with sports coaching, it's for people who have potential and with the right focus and attention, they can achieve great things. A real win-win for staff and the business.
What can I help you with?
Coaching can focus on a range of topics and for Small Businesses, I offer coaching workshops on particular topics that's relevant to your business – making it even more cost effective.
However, here's a few areas that I've helped other clients with: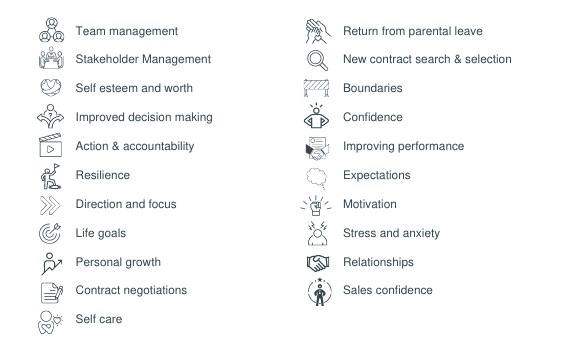 Why choose me as your coach?
Unlike other coaches, I've been the Customer and the Business. I understand the complexities, the politics, the people and the challenges of businesses, as well as being a member of staff who has struggled with many wellbeing, diversity and equality issues. I understand the importance of return on investment and how staff issues can create a negative ripple effect across the whole business.
I can also relate to the world of self employment and the pressure of making a business work when it's your total livelihood. The pressure on the Business Owner and the Senior Managers in the firm, where the impact of a decision or direction has enormous impact and there's no where to hide. I'm also not a big consultancy or coaching business, so my rates are affordable and provide value for money.
Every Small Business is different, so if you're interested in how my coaching could help your business, click the link below and book a FREE, no obligation, discovery call – it's your opportunity to see if I'm the kind of coach you could work with and to share what you would like to get from the coaching service.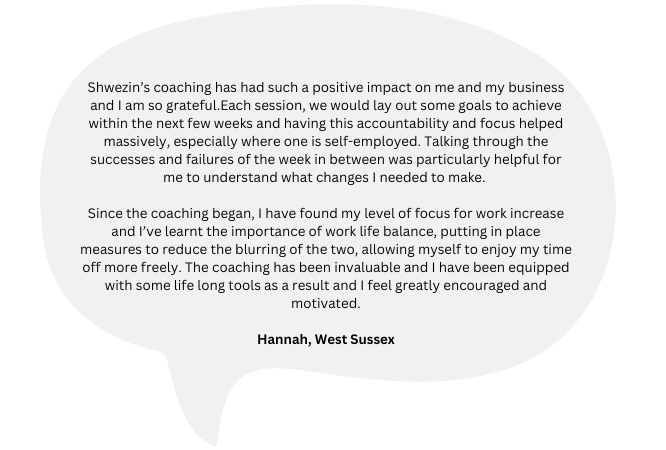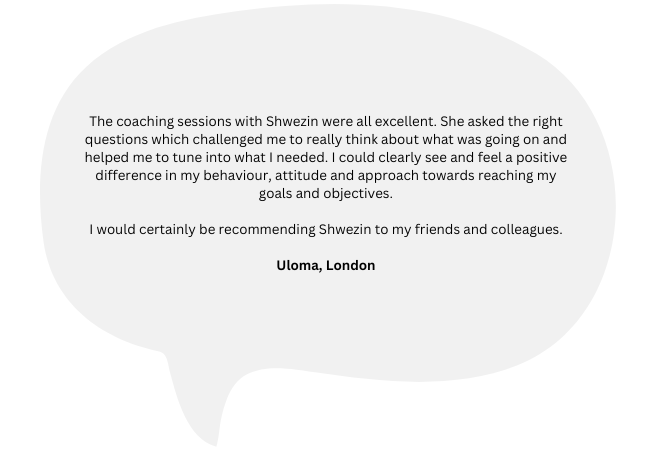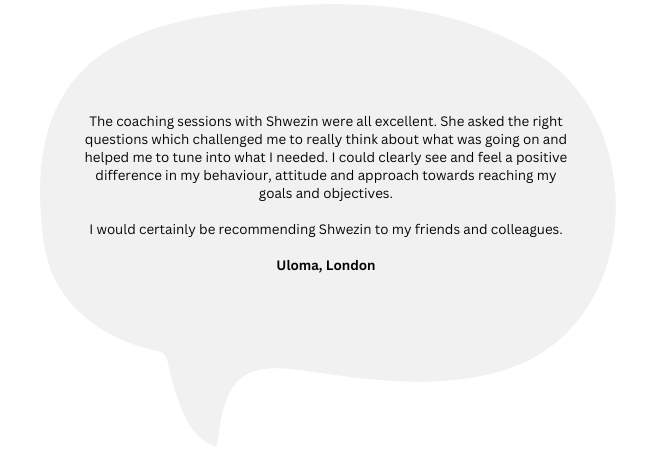 Or fill out the form below and Shwezin will be in touch: