The men's grooming industry is becoming more and more popular as men are placing more emphasis on their appearance. From hairstyles to facial hair care, to skincare and other types of maintenance services, men in the modern era are beginning to invest more in themselves to help them with their confidence and personal well-being. In a survey conducted by YouGov, it was found that 81% of men felt more confident in themselves after having a haircut or beard trim, just highlighting how important grooming services are for men.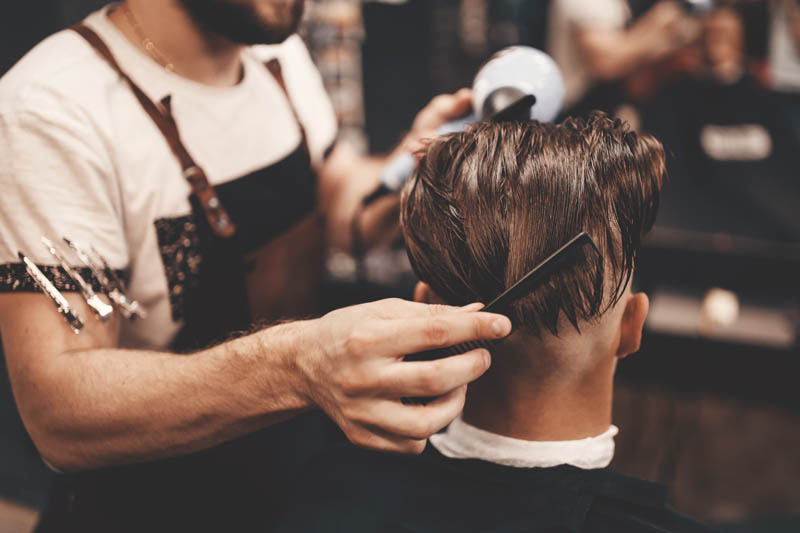 What services are usually included in a Men's Grooming Salon?
Many services can be included when opening up a grooming salon. According to Statistica, the most popular grooming area for men was the head with 55% of the people stating they mainly purchase many hair and facial hair products when thinking of self-grooming.
Clearly, with such importance placed in this aspect of grooming, it would be ideal to start-up having a hairdresser service at the very least to begin with. Hairdressers are responsible for haircutting, trimming, colouring, styling and maintaining healthy, stylish hair for clients to look and feel good.
Other services which may be included are:
Facials and other skincare treatments.
Waxing or any other types of hair removal treatments (eyebrows, body hair or leg hair removal).
Body massages or even sports therapy services which can relax individuals.
Pedicures or manicures.
Some services may be used more than others, therefore it is important to gather both primary and secondary research to get an understanding of the local market in order to understand which services would likely cause attraction for future clients.
What skills and knowledge do you require to start a Men's Grooming Salon?
There are many different skills you might need to start a men's grooming salon. These include:
Passionate about Grooming:
In order to start up any sort of business, it is important that you are passionate about what you will be doing, you are organised and have (both short-term and long-term) and are willing to grow by facing challenges, finding solutions and learning from failures.
Trustworthy & Reliable:
Men's grooming will require you to be trustworthy and reliable, as clients are putting forward a lot of trust in you to deliver what they want to feel confident. A good aesthetical appearance is subjective to each and every individual and it is important that you understand that what works for one client, may not necessarily work for the next.
You must treat every client with the best level of care possible, however, cater to the needs of each individual in order to satisfy everyone.
Great Listener:
Each client will have a set of preferences, a unique desired look and a certain vision which they need you to help them to achieve. It is important that you or anyone who you take on board within this business possesses great listening and interpretation skills as these will be essential to delivering the dream appearance for the client. Every little detail matters.
Positive Attitude:
Being someone who is looked at in a positive way will come a long way in this industry. Clients want to feel that they are trusting someone positive with their body with someone who is seen as a good figure. Being positive, enthusiastic and charismatic will help you come across as someone who is reliable and inspirational.
This will also mean that clients will likely be more inclined to listen to suggestions you may have on their look, whether it is something as simple as switching up their hairstyle or utilising other services offered within the salon.
Up-to-date with Latest Trends:
When it comes to grooming, understanding trends and being up to speed with the most popular styles will only boost overall popularity of the salon.
Styles and trends are constantly changing, therefore, the salon should be able to adapt quickly, utilising the skills and resources available.
It is important to always be reliable at delivering the common services to a high standard. As well as being up-to-date with the latest trends, a salon should always be able to provide services which will always be popular among all general men styles.
What else must you consider when starting a Men's Grooming Salon?
Outside of the skills and knowledge, you may also need to consider how to go about setting up your salon. For example, where you would most likely open a salon, how are you going to market your business, and what sort of atmosphere you want to create for your clients? Here are a list of things you need to consider.
Where is an ideal location to start-up a Men's Grooming Salon:
The ideal location to start-up a Men's grooming salon will depend on a number of factors including the following.
Understanding your local market will help. Carrying out market research and understanding who will be likely to pop in and check out your services will help you choosing the location.
The salon would attract more people if it is located in close to other relevant businesses. This will make your salon easier to find and will increase the chances of new customers coming in, in future.
Depending on your budget to start-up the salon, the size of the property is something to consider. The services you offer and size of your workforce will have an impact on this choice too.
Marketing for a Men's Grooming Salon:
Marketing is important for any business, but for a Men's Grooming Salon it can mean the difference between a successful service with many clients or a failure of a start-up. Here are things to consider:
Physical marketing (billboards, posters, business name signs, costs of services)

It is essential that the marketing is clear so that potential customers can see your business and understand what you offer at first glance.

Your store should look appealing and the design should be consistent – you should consider what colours, materials and decorations should be used in order to create an appealing place for work.

Digital marketing is key, especially for grooming businesses – Having a website or social media with information of your services will help you to reach a larger audience.

Website and social media marketing should also be consistent in terms of designs – the same fonts, logos and signs should appear on the profile page and all of the posts, this will make your posts more recognisable.

Social media should be interactive and engaging – using videos to showcase the businesses services, posting testimonies of a previous clients experience with the salon and even providing personal details of existing staff will give a more personal connection for customers.
Social media marketing can also be used to conduct market research and help improve your services.
Hiring the right people also impacts your marketing – employees are a physical extension of the values you want to portray to customers. Employees should be professional but should also be able to put customers to ease (customers who have experiences will likely recommend the service to friends and family).
What equipment will you need to have when opening up a Men's Grooming Salon?
Equipment you need will largely depend on what services your salon will offer as a men's grooming business. Some basic essentials you will need would be:
Electric razors, blades, scissors and trimming equipment.
Cosmetic products (e.g., facial and body creams, oils, perfumes, fragrances, hair products).
Hairdryer.
Wall and handheld mirrors.
Chairs for clients.
Gowns for clients.
Drawers and shelves for products and equipment.
Treatment beds (e.g., body massages).
The initial amount of funding will depend on what services and equipment you believe you will need. Find out more on flexible funding options you have to help kickstart your business.
What are the benefits of having a Men's Grooming Salon?
There are many benefits of starting-up a men's grooming salon because it involves working with people and building unique relationships. Here is a list of benefits:
It is a growing market with many men placing a huge emphasis on their self-maintenance and appearance. The demand for grooming services will only grow.
Creating a personalised environment where you make long-term bonds with colleagues and clients.
Helping people achieve their desired appearance, building confidence and positivity.
The bigger your clientele becomes, the more your profits will increase and the more opportunities you will have to provide more services.
Each client will have different needs, therefore you do not need to worry about repeating the same thing every day.
Potential to gain sponsorships or partnerships with cosmetic brands and services in the future.
What are the challenges of opening a Men's Grooming Salon?
One of the main challenges you may face is that the initial costs will be high. This is because there is so much to consider, from equipment to the building which the salon will be based in, to hiring skilled and qualified workers, this will need to be seen as an investment. Only by having a long-term business plan, commitment and an attitude to learn from failures, will the business grow.
Secondly, building a consistent clientele will take time. This business is about being trustworthy and reliable, and it is essential that every customer that walks in is treated in a way where they will receive high quality service while also getting a sense of familiarity.
Yourself, and your staff members must be willing to build organic relationships, likely increasing brand loyalty and business sales and business growth.