Promoting your company and raising public awareness is often the first step in building a successful small business. One of the ways you can do this is by drawing up a marketing strategy. Here are some tips for creating your strategy, including a useful infographic.

Using SWOT analysis
Start off by doing an SWOT (Strengths, Weaknesses, Opportunities and Threats) assessment of your business as objectively as possible.
The strengths and weaknesses you identify are 'internal' factors, and the opportunities and threats faced by your business are 'external'.
As part of a typical SWOT audit, you should ask firstly identify what you're good at, and what you're not so good at. Typical questions you may ask yourself include:
What makes your business ideas better than those of your competitors?
What are your company's limitations, and how can they be improved?
Do you have sufficient in-house marketing expertise?
Does your company's location have an impact on profitability?
How strong is your company's reputation in the marketplace?
In terms of potential threats, and opportunities you can identify, typical questions would include:
Is there an economic change going on, or one on the horizon?
Have new competitors entered the market?
Is your market undergoing a price war?
Have new taxes been applied to products or services you offer?
Have there been any new technological advances?
Once you have undertaken your SWOT audit, and formulated a marketing strategy based on its findings, the next question is how to market your SME.
How to market your SME – Infographic
Promotional marketing experts Stay Sourced have provided us with this handy infographic which gives some tips for SME owners for marketing their business (click to see the full graphic).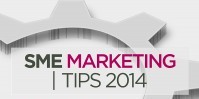 It covers a number of topics such as how to harness the power of of social media, promotional marketing and networking in helping to market your product or service.
While these are just some of the ways you can market your business and each business will need subtly different marketing strategies specific to their business, these useful hints should give you some ideas on where to start.
For some further information, try this dedicated SME advice page from Stay Sourced.