The Company Buy team recently moved into new offices. If, like us, you're looking to upgrade your workspace, there are a number of additional costs you should be aware of.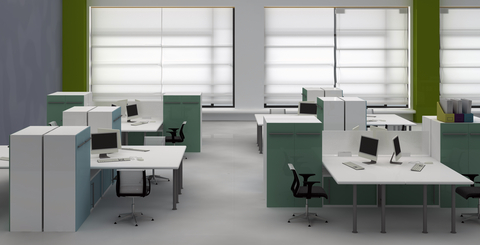 There are several types of office – fully serviced (where literally everything is included), managed (where you'll typically organise your own furniture, and some utilities), and stand-alone (where you organise everything, and would usually sign a lease with the landlord, rather than a licence which applies to serviced and managed offices). There is a fair bit of overlap between each office 'model'.
Here we look at what your typical office costs will be, and what to look out for before signing an office rental agreement.
Office Rental
Your contract will state a) what your office rental will be, b) the payment frequency, and c) the agreement length. Before signing anything, make sure you agree with these terms. In some office developments, there is plenty of spare capacity, so you may well be able to negotiate a lower fee. Try to negotiate directly with the office owner rather than an intermediary – as 'agents' will need to recoup their finder's fee from somewhere.
Administrative fees
You'll often be asked to pay an initial fee for organising paperwork, such as drawing up a rental contract / licence. This is fairly typical, and assuming the costs are reasonable, there is little you can do to avoid them. If you're looking to rent stand-alone premises directly with a landlord (not serviced offices), you should seek legal advice from a commercial solicitor before signing a lease.
Deposit
You should expect to pay a refundable deposit before you physically move in to the premises. The amount you may will depend on your contract terms, but one month's rent is typical – especially for serviced / traditional offices.
Business Rates
Many serviced office providers will include rates within their rental costs, however this is not always the case. If you are liable to pay rates, you may well be eligible for rates relief. You can get small business rate relief if the rateable value of your office space is £12,000 or less per year. You qualify for 100% relief if your rateable value is £6,000 or less. Make sure you contact your local council right away, as you'll be expected to pay your full rates unless you apply for relief.
Internet / Phones
If you're looking to move into a fully-serviced office, you may well have to use the office provider's telecoms facilities. This may be convenient for some firms, but you will pay for the privilege. If you have a choice over your telecoms provider, make sure you compare the various business broadband / telecoms providers, not just BT (which has high monthly fees, and typically installation charges on top). You should be able to get a phone line, a large number of free landline calls, and unlimited broadband for under £30/month. We did.
Meeting Rooms
If you expect to host meetings in the future, you may well benefit from choosing an office which provides board room or meeting room facilities. You'll typically be charged an hourly fee for using conference facilities, plus any 'refreshments' you require.
Cleaning costs
If you're renting space in a building used by other business, cleaning costs will usually be included in your rental – certainly if you're paying for a serviced office.
Utilities
Again, if you've opted for the more conventional type of office space, the costs of heating and water are likely to be included in the costs, but not always.
Parking
Find out what parking facilities are offered by prospective office providers – for both clients, and visitors. Unsurprisingly, parking costs and availability will be heavily dependent on location (in town, or out of town).
Insurance
Your office provider will be responsible for arranging buildings insurance (you may or may not have to pay a distinct contribution to this). As a client, you're likely to have to take out your own business contents cover. Make sure you are adequately insured, especially if you have expensive computer equipment or other technology.
Furniture
A fully-serviced office will usually include tables, chairs and cupboards, whereas you may need to furnish the space at your own expense if the office isn't managed. In our case, the previous tenants left behind most of their furniture for free (as agreed with us), so there may be a fair bit of leeway when it comes to equipping your new workplace.