The number of programmes aimed at investing in start-up businesses has more than doubled over the past three years, following the success of US-based business accelerator schemes, which produced the likes of Dropbox and Airbnb.

UK leads Europe on start-up investment
Telefónica UK commissioned an in-depth study into almost 60 start-up programmes which currently operate in the UK. These incubator and accelerator programmes have been created to boost early-stage businesses, offering investment, mentoring, and wide-ranging support.
Over half have been formed since 2011 (see graph below).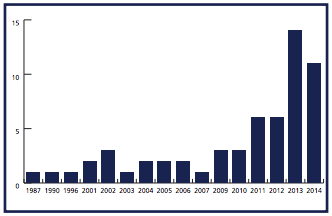 The report's authors found that the UK currently offers more start-up support programmes than anywhere else in Europe. Growth has been particularly keen by organsations offering accelerator programmes – including a growing number of corporates who are keen to back innovative start-ups.
So, what is an 'accelerator' programme?
You may have heard this term more often in recent years – it was made particularly famous by US-based investor Y Combinator, which has invested in over 500 start-ups over the past nine years. Two of these investments have paid off particularly handsomely – Dropbox and Airbnb, which now have a combined value of almost £20bn.
The company provides seed capital, support and contacts via its bi-annual three-month programmes, and takes an average 7% investment in return for its investment.
Other notable successes for Y Combinator include online message board Disqus, Scribd and reddit.
An accelerator programme typically offers:
A competitive application process.
Investment in numerous start-up ventures.
Early-stage investment, in return for an equity stake.
Intensive short-term report (often for around 3 months).
Significantly, of the 59 programmes identified by the study, 33 are accelerators.
How are Incubators different?
Incubators tend to be less intensive than accelerators – typically offering support over a longer, less defined period of time. Organisations tend not to invest directly in chosen start-ups, but instead source investment via their networks.
Although no two schemes are the same, most make money by charging participants membership fees, or by charging their members for the use of office or lab space.
Increasing corporate involvement
The number of large companies investing in the start-up space has increased massively since 2011. In fact, one in eight of the schemes identified by the research are backed by business partnerships and corporations – including big names such as Red Bull and Barclays. Clearly, it is good PR to be associated with the UK's brightest new ventures, but there are also potentially huge rewards to be had if you back a future tech giant.
A London bias?
Despite efforts to promote entrepreneurship schemes across all of the UK's regions, the majority of investment remains focused on the capital; almost two-thirds of start-up incubator and accelerator programmes are based in London.
This should come as little surprise, perhaps, with London's Tech City set to generate £12bn of economic activity over the next ten years, attracting corporate giants such as Cisco and Google to invest in the area.
Despite the complete dominance of London over the rest of the country when it comes to investment opportunities, small clusters of start-up programmes have grown in Birmingham, Edinbugh, Cambridge, Bristol, Glasgow and Guildford.
Visit IT jobs in London for more information.