Decorating your office can be as challenging as it is rewarding. And being limited to a budget does not make the job easier! It is much more challenging to decorate an office than it is to decorate your bedroom or living room because the office is a much more sober place. Even if you run a small business, you probably get a lot of people coming over to your office, and you need to make sure that they get a good first impression of the place. After all, they will use that impression to make their initial judgement of you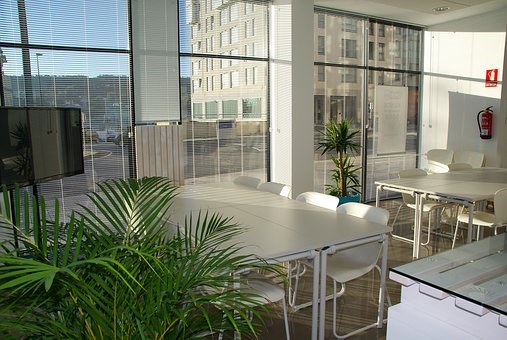 Decorating your office on a budget is not impossible though, you just need to be smart and very creative.
Here are seven budget-friendly office decoration ideas by Hannah from Ergoedge.
Pick a colour scheme
Decide on a colour scheme for the whole office and keep it in mind when you are painting the walls, buying furniture, and hanging the drapes.
It is a great idea to pick a colour scheme and stick to it because it will limit your choices for a lot of things. You can then prevent yourself from going too crazy with the colours!
Not sticking to a colour scheme will throw the outlook of your office in a state of frenzy and could have a subtle psychological impact on your clients and workers because they will not be able to focus on a singular point. If it's too distracting it can also affect their work ethic.
For offices, people usually go for cool pastel shades like baby blue and mint green. Other sober colours like Royal blue, shades of white and jade green can work very well too. You can go for a monochromatic theme for the whole office and paint everything in one colour, or different shades of that colour. Alternatively you could pick one primary colour that dominates the room and one or two contrasting colours to complement it.
Add minimalist furniture
If you are on a very tight budget, you can easily go for a minimalistic approach. Minimalism is very trendy lately, and you can see all around you. All the chic houses and offices have slim and sleek furniture, nothing extra that consumes space, and it's all usually very simple.
If you can find slim and sleek furniture on a budget, that's excellent. But you can also cut down the costs by simply not getting anything more than what you actually need. For example, if your office is very small, you might just purchase a desk, your chair, and two chairs for your clients. If you have a larger space in your office, you could add one sofa and a coffee table and nothing more.
Décor on a budget
You need to decorate your office with ornaments in order to make it more appealing to the people who visit. If you keep it too plain then not only will your clients feel bored but the morale of your workers will also go down slowly.
So the first thing you can do is add indoor plants. Indoor plants are not an expensive investment at all. There are many affordable kinds, and they all look beautiful. If you want to go for a low-maintenance variety, you could just get a couple of cacti and place them wherever you have space. Not only will they increase the aesthetic appeal of your office, but they will also freshen the air and boost the morale of your workers.
As well as indoor plants, you might also consider putting up framed wall-hangings. These framed wall hangings can include anything from plaques and shields to contemporary artworks which go well with your office theme.
Add a lot of storage
To make sure that your office does not look like a mess, you need to add a lot of storage. We are talking about cabinets, shelves, drawers, and anything else you can think of. Simply having a proper place to keep all of your essential things is enough to add to the appeal of your office. Not to mention that cabinets and drawers make the office look more professional. And since all offices need storage space, you will not be going over your budget either.
Keep it well organised
An office with a lot of clutter gives a terrible first impression of the place as well as the people who run it. Keep the clutter off your visible spaces and make sure everything looks organised.
For example, you can get a wire organiser for all your cables and cords that will otherwise likely be strewn across your table. Other than that, add shelves along the walls of your office so that there is a space to keep all your items of immediate use in.
If your office looks neat all the time, you don't have to go overboard with the decoration budget to get the place fancied up.
Clean it frequently
Do not neglect the cleanliness of your office, ever. It starts becoming evident after a while of not cleaning that you have been neglecting this duty.
Make sure that you vacuum the floor and the carpet at least twice a week. Also make sure you dust the furniture and the other visible items too. A clean office will reflect on you as a responsible and reliable person, and cleaning definitely doesn't go over the budget either!
Don't skimp on the reception desk
If you have a large office, it will be difficult for it to look like an office without a reception desk. We will not get into how convenient a reception desk is for an office, which is plenty, but we will get into how it affects the décor.
Imagine entering a large office and not seeing a reception. You wouldn't know who to go to and who to talk to, it could end up looking more like a house than an office.
More on finding the right office space and business image.