We live in a digital era. The era in which remote work is no longer a growing trend but a part of our everyday lives. Being able to work from home or any place in the world has allowed people to finally fulfil their dreams of becoming small business owners. If you are one of those people that thinks launching a business isn't difficult, then think again. Building a business from scratch and running a remote team takes enormous effort.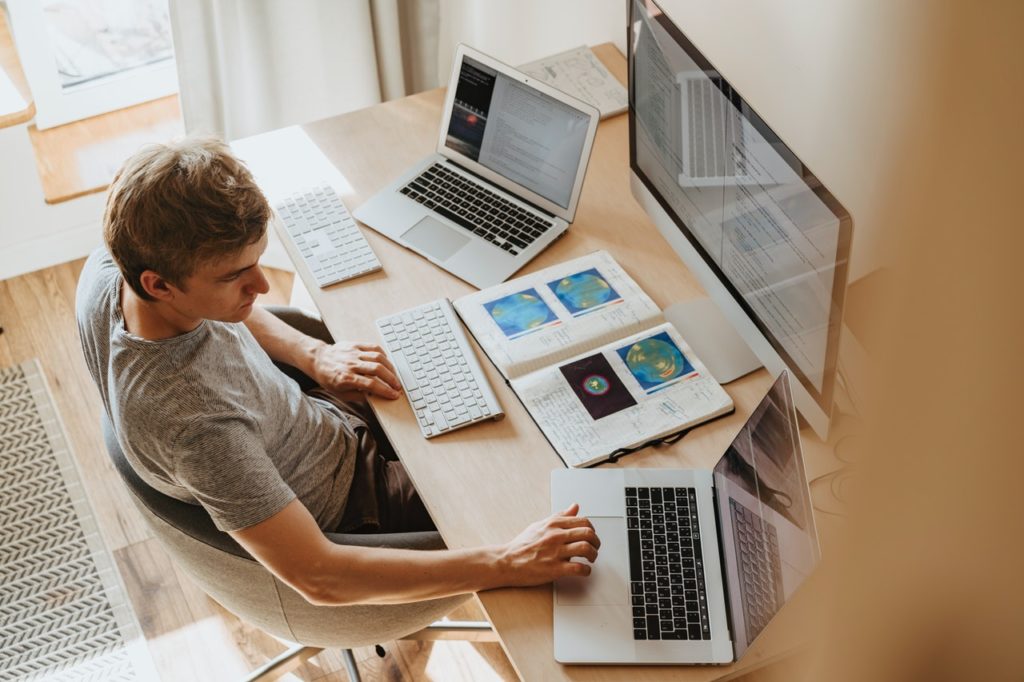 Luckily for you, Blink are here with some effective remote strategies to help you run your small business and virtual team efficiently.
Protect the business from a crisis
Small businesses are highly vulnerable when it comes to dealing with difficulties and obstacles. Unlike large companies, they sometimes don't have enough means to come through a crisis unscathed. Most small business owners don't know how to react to the COVID-19 pandemic as it has caught everyone off guard. They think cutting back is the only way to survive the crisis. However, now is actually the time to invest in social media marketing and Search Engine Optimisation (SEO). Marketing strategies and techniques require certain investments, but by the time the pandemic is over, your business will start reaping the benefits. The best part about marketing efforts is that you and your marketing team can do everything online or remotely. As a result, the business is more likely to become more resilient and stay afloat despite all business adversities.
Put forward a communication plan
Most employees still can't get used to new ways of communication with colleagues and managers in the virtual workplace. The same goes for management. To make the transition to remote work run smoothly, you should put forward a communication plan. There are many communicative technology tools and platforms available which can help you do this, for instance an intranet can help you connect all staff members and keep them on the same page. However, relying only on tools to boost communication isn't enough, you should also include daily check-ins, video conferences, and collaborative tasks in the plan. This way your employees will have everything they need to communicate effectively, and they can finally get used to new work arrangements.
Collect and analyse data
To run a successful small business, you will have to continuously collect and analyse data. It is the only way to gain insight into how your business operates day in day out. Moreover, all data serves as the foundation for making business decisions, plans, and improving your business in general. You can see how sales are going, which products sell the best, how customers are satisfied with your products or services, etc. Furthermore, whenever you start planning for the future, you can always go back to your previous sales reports. Hence, you will prepare better and achieve goals easier. Similarly, you can revive some trends or bring back some of your best selling products from the past and offer them again to the customers. They will be delighted to try them out once again as the quality is guaranteed.
Streamline business processes
The business world constantly evolves as well as the industry. To keep up with the changes and global trends, you should always find ways to improve certain business aspects. For example, payrolls, schedules, workload, appointments, etc. If you decide to take care of everything by yourself, you are bound to overlook some processes. Besides, you will lose precious time trying to make improvements around the workplace. Nonetheless, technology is here to help you streamline business processes the right way. With specialised tools, you can keep your inventory under control and receive notifications when products and items in stock run low. Additionally, you can track invoices and keep them stored on digital platforms. This way your staff members no longer have to sift through stacks of paper. These and other shortcuts can help your small business manage its processes and become efficient in the long run.
Expand your staff
Small business owners usually tend to do everything by themselves. If you do this too, then you know how overwhelming this can be. That is why you should consider expanding your remote staff and hire additional help. Still, you shouldn't take the recruitment process lightly. As your business grows, so does the employee selection. When you hire the right people, you get closer to achieving desired goals. Make a mistake of hiring the wrong people and your business will get stuck. To hire the best candidates, you should not only look at their skills, experience and hidden potential. You should make sure your culture and set of values align with theirs. Only then will you be certain of having recruited prospective additions to the team.
In the end, starting a small business is just a start. To run a successful small business you have to learn how to manage not only the business but also the remote team. With our remote strategies, your team and business will become efficient in no time.
More on growing your business and remote working.