There's a lot more to human resources than just handling personal functions such as hiring and firing. HR is also responsible for managing talent and supervising the entire lifecycle of employees. Therefore, to ensure that your business flourishes, a successful talent management strategy is key to helping your employees reach their full potential within the workplace. After all, a firm's most valuable resource is their people, so, the role of talent management should be considered an essential part of your organisation's strategy.

What is talent management?
A talent management strategy is the process of how a business discovers, sources, retains and develops its most capable employees. All the core processes, systems and employees involved in the recruitment, training and professional development of staff are part of the talent management strategy. In other words, it's a way of bringing in people who are suited to certain roles and your company culture and then helping them develop. In addition to helping you make full use of your human capital; a successful talent management strategy can also improve the financial capital of your business. Research conducted by McKinsey & Company stated that companies who have an effective talent management strategy in place reported higher returns to their stakeholders.
To fully capitalise on your talent management strategy, it is integral that your organisation implements intelligent HR software. This acts as a valuable source of data which ensures you can make reliable and accurate evaluations of your employee's capabilities and development.
Benefits of a talent management strategy
One of the main advantages of talent management is that it helps develop a committed and motivated base of employees for your organisation which can lead to higher productivity and lower staff turnover. Recent global figures suggest that just 13% of employees are engaged at work however, opportunities for development both professionally and personally within an organisation have a significant influence over the decision to remain in a job. Therefore, laying out a clear path for advancement could be the difference between retaining and losing your best and brightest talent.
This visual by Sage outlines some of the foundations of an effective talent management strategy and the reasons why companies should invest in their staff.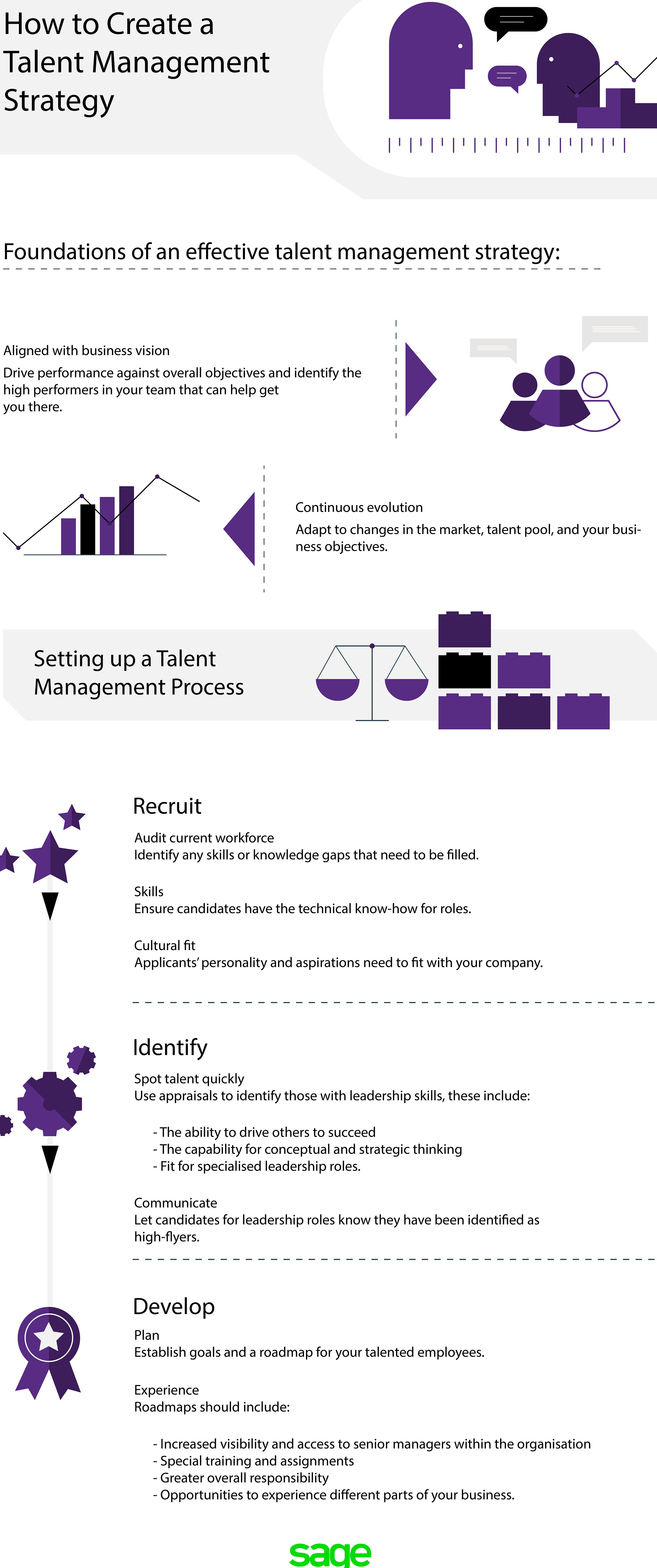 It is, however, important to consider several different factors for a successful approach when building talent management programs:
Be concise about your organisation's ethos and goals
Take an agile HR approach when planning your talent management strategy
Regularly evolve your strategy to align with your business priorities
Consider treating leadership as more of a collective rather solely for a select few
More on HR and staff management and retaining staff for your small business.