Black Friday has become a highly anticipated period of the year which businesses and customers have suddenly found themselves planning for. On Black Friday most businesses, from those within the clothing industry to the technology industry offer many products and services at a discounted rate or provide limited time special offers. It is an opportunity for businesses to increase sales or even awareness.
Small businesses can also participate in Black Friday and make offers/discounts for potential customers, as usually it is a time when some customers are not specifically looking to purchase certain items but rather search around to find a deal.
For other customers, it is a time where they look to purchase specific products or services that would usually cost more and therefore have been patiently waiting for an offer to become available on Black Friday. Many businesses offer all sorts of products and services at different discounted rates, from club memberships, to the latest technology or clothing, whatever industry your business is in, there are always customers who are looking to get a bargain during Black Friday.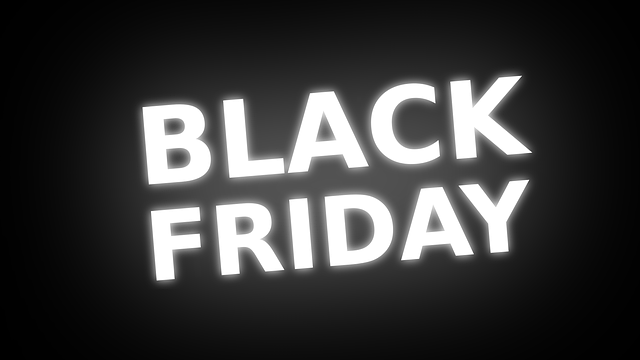 For many small businesses, Black Friday might seem like a daunting time of year. Many business owners will think 'does my business have what it takes to handle a Black Friday sale?' or 'is it worth the effort to participate with Black Friday?' the answer, is yes. Below are 7 top tips for small businesses to use as a guide for the Black Friday period.
1 – Understand your business goals
Black Friday, like Valentine's Day, Easter and Christmas holidays has become a period during the year that businesses circle in their calendar and anticipate. The annual performance of a business can be impacted heavily just by the performance of the business during periods such as Black Friday.
Understanding the overall goals of what you hope to accomplish is vital as Black Friday is an opportunity to gain some form of positive outcome. For many businesses, such as large retailers, it is an opportunity to see a high volume of increased sales. For other businesses it is an opportunity to offer their services at a discounted rate with hopes of increasing their clientele or loyal customers (i.e. members, subscribers etc.).
Whatever you hope to accomplish from the Black Friday period, you should always keep in mind what your aims and goals are as a business. Once you have reflected on the goals you have set, you can decide your businesses tactics and strategies for Black Friday.
2 – Make sure your online presence is felt
87% of people in the UK bought something through online shopping in 2020, and online channels are now utilised as a marketplace for businesses. As well as it being a marketplace for many businesses, it is also a platform where you can raise awareness for your business; highlighting business values, goals and services.
Ensuring that your online presence is optimised during the Black Friday period would mean that you are putting your business in the best place to gain awareness for any sales, deals or offers that you are doing for Black Friday.
As well as building anticipation online, you should also make necessary checks to make sure that your website will be able to cope with high demand. Make sure that your website is capable of high volumes of users navigating around, making online purchases and that any news is updated in live-time (e.g. live stock is clearly shown to customers).
3 – Utilise social media and reach out to customers
Social media contributes as part of the overall online presence, but also requires its own planning for Black Friday. Social media for most businesses is used to communicate with people and therefore can act as a platform which gives a heads-up to customers that the business is taking part with Black Friday. You may choose to notify online customers as early as 2-3 weeks before the actual Black Friday date.
Social media can keep people up-to-date with the latest news and updates with your business, regarding the Black Friday period. It can also promote any special offers or limited services that you will be offering during this time and will generate interest online for people. Social media marketing campaigns should be specifically planned out a few weeks prior to Black Friday as you may want to have a certain strategy going into it. Some businesses like to offer Black Friday deals a week or two before the actual date, while some like to wait until a few days before or until the day itself to promote special deals.
4 – Use a mailing list to build anticipation
If you have a mailing list, it is a good opportunity to send out any Black Friday deals or services that your business is going to be offering as a form of a heads-up. This will initially put the prospect of any Black Friday offers into the back of your mailing subscribers' minds. It can also increase customer loyalty as it will be seen as you giving customers time to prepare for the deals.
5 – Check your stock beforehand
Black Friday can be demanding for all businesses, therefore, understanding exactly how much stock you have, your resources, parts, materials or even condition of equipment should be checked in order to provide a satisfactory experience for customer. Make sure that you have anticipated the demands of your customers so that you are able to fulfil their desires for Black Friday. If you sell some sort of product, make sure that you are restocked accordingly, potentially ordering more units of your more popular products. If you offer some form of service, make sure that you have the resources needed to carry out your services.
6 – Create an eye-catching in-store experience
While many people will be conducting their Black Friday shopping online, your in-store experience should also make it clear to customers that you have Black Friday deals and offers. Consider changing the store layout by placing some of your products with better offers in clear and easy to see areas. However, you should think carefully about where you place these products and maybe consider having a member of staff monitoring these areas in case of theft.
Window displays and banners may also inform customers that your business is participating with Black Friday, therefore it is something to consider as visual promotion from your store could encourage impulse shoppers.
Your staff should be prepared for Black Friday, whether your business is participating early on with this busy period or for a couple of days, your staff should be mentally prepared that there will be more customers and they may require more attention than usual. The business may need to adjust their daily procedures in order to handle the high demand, therefore the staff should be aware if there are any changes with your business to avoid confusion.
In terms of in-store layout, placing Covid-19 regulations should also be something of importance as protecting both staff and customers is essential. Businesses, especially smaller businesses may want to consider putting out guidelines, arrows to encourage spacing, hand sanitizer available at different touchpoints and constant cleansing of the store. It is still important to keep the shopping experience as safe as possible.
7 – Encourage customers to share experiences
After providing a satisfying customer experience to people either in-store or online, you should encourage customers to share their positive experience. Social media is one of the main platforms where customers can reach out to their followers and spread a positive word about your business and encourage others to check out your Black Friday offers. 92% of people trust recommendations from friends or family, over any other type of advertising, therefore all businesses could gain more customers and see an increase in sales if they are able to encourage satisfied customers to share their positive experiences with the businesses services.
Small businesses can use the Black Friday period to benefit, either from receiving an increase in more customers, gaining a greater online following or even to increase more sales. By following these tips, your business could capitalise during a busy period during the year. For many people, it is a highly anticipated time of the year, and making adjustments to your business both in-store and online could be the difference between having a successful or unsuccessful Black Friday.