WPA specialise in Private Health Insurance for company policies of 2 employees or more living at separate addresses. These policies can be structured to each company's needs and budget. But importantly include full in-patient and out-patient care including full cancer cover.
However, if you are a small family run business operating out of one location, or a self-employed contractor we still have discounted policies and promotions to meet your needs. These come under our Flexible Healthcare plans which are highlighted further down below.
GET A £100 M&S GIFT CARD WHEN YOU
TAKE A POLICY OUT BEFORE 8th January 2019.
Why would you choose a Company Policy with WPA?
We only specialise in Private Medical Insurance.
Flexible Policies to meet your employee needs and budget.
Access to a large network of Private and Premium Hospitals.
Freedom to choose the Specialist or Consultant you want to see.
Highly competitive premiums and promotions.
Personal Partner support through Company Bug.
Company Bug is able to provide preferential rates for you and your family when purchasing, Dental or an NHS Top Up schemes (cash plans) from WPA.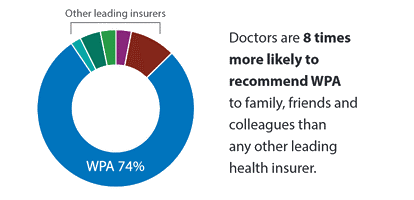 WPA is an award winning 'not for profit' provident association with a heritage of over 100 years. Not believing in one size fits all, WPA tailor the right products for the right people. Offering a wide range of innovative and affordable healthcare solutions with discounts for the self-employed.
Flexible Health
Essential ☆☆☆  Fast Track Private Surgery.
Premier ☆☆☆☆ Enhanced & affordable benefits.
Elite ☆☆☆☆☆    When you want the Best!
25% DISCOUNT IN YEAR 1 ON ALL PERSONAL POLICIES
Details:
Applies to ALL Contractors, the Self-employed or members of a Professional body. Whether applying individually or as a family. Examples of a Professional body include but not limited to: (Engineers, Accountants, Doctors, Lawyers, Teachers, and Consultants). Also, if you are a member of an umbrella company the promotion will apply and you will receive all the discounts below.
In year 1 you will receive a 25% discount, followed by a 15% discount in year 2.
For all applications through Company Bug, you will receive a 10% discount ONGOING as part of the partnership with WPA. This will start in year 2 and continue for the duration of the policy held with WPA.
Mr Simon Bradley handles all enquiries on behalf of Company Bug for WPA and will be your personal point of contact wherever you live. This is an integral part of the service we offer. He ensures all enquiries will receive a reply and illustrative pricing within 48 hours.
WPA also offers a Dental policy and a range of Cash Plans offering 'CASH BACK' for Optical, Dental, Physiotherapy treatment and many others as well.
In addition to the current promotions detailed above WPA will also offer a £100 M&S Gift card for any Private policy purchased up until the 8th January 2019.
The current promotions ends on the 8th January 2019.
This form will be sent to WPA.
More on private healthcare insurance.